At the School Board meeting on September 12th, Salem Keizer Coalition for Equality was recognized for our partnership with the district. We were nominated by Four Corners Elementary staff, a school we have worked with for eight years. The award announcement for SKCE starts at video time 9:23 and ends at 12:12.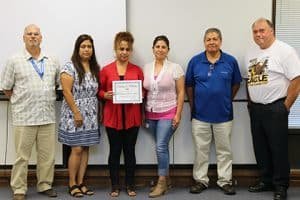 Pictured from left: Four Corners Elementary Principal Phil Decker, Instructional Assistant
Rosa Garcia, SKCE representatives: Lucia Sanchez Caballero, Yadira Juarez and Javier
Quiroz, with Board Chair Paul Kyllo. Photo courtesy of SKSD.
As the Salem Keizer School District said in its Spotlight on Success post, we were nominated by the Four Corners School staff. We've worked with Phil Decker, Rosa Garcia and many other Four Corners staff members for years, and enjoy their enthusiasm and support.
Excerpts from the award presentation
"The Coalition has worked district-wide to support our non-English speaking community. Last November, they sponsored an appreciation dinner and cultural night for the district's bilingual teachers. Over 150 teachers and family members attended the event held at Stephens Middle School."
"For two months this past summer, the Coalition co-partnered with the school district to put on the District's first Summer Language and Culture Institute. Hosted at the Coalition's offices, it consisted of 15 days of activities, events, field trips and guest speakers, to expose Salem-Keizer Schools staff to the local Hispanic culture in our community."
The written text for the award presentation is in the Spotlight for Success post above (we are the second group awarded on that page).
Thank you to the Salem Keizer School District for the recognition!