In the last three years, with a new partnership with the Salem Keizer School District we are working to increase teachers of color in schools by promoting systems change in recruiting, hiring, retaining and culturally responsive training. Our shared vision is a culturally responsive workforce that represents and meets the needs of its diverse students and families.
The school district's 42,000 students include over 50 native languages and nationalities. Half of the students are considered students of color. Nearly two-thirds of the district's children are low-income or live in poverty.
Generational and historical obstacles to graduation and higher education in Oregon has resulted in a teacher workforce that reflects very little diversity. Many studies have been done over the years and across the nation showing improved achievement for students of color when teachers reflect the diverse backgrounds, cultures and languages of the students. Also critical is the ability of all teachers of any background to have the relational skills, the "culturally responsive" skills, to interact successfully with students and parents who are different from them.
To this end, one of our activities this past year, in partnership with Salem Keizer District's Human Resources, was a Language and Culture Institute for teachers, a summer professional development opportunity here at the Salem Keizer Coalition for Equality.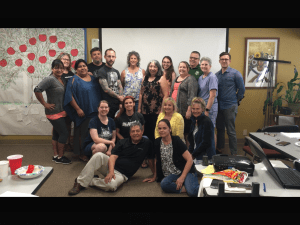 The institute was accredited by Western Oregon University for the teachers' continuing education requirements and consisted of Spanish language class in the mornings and a Culture Institute in the afternoons. Seventeen teachers attended 15 days of trainings in June and July of 2017, from 9:30 AM to 3:00 PM. By all accounts, they had a fabulous time. Several stated in their evaluations that the experience had been life-changing.
In addition, we have helped the district with two local job fairs for classified employees. The last one was this past November. With our help, the district was able to double the attendance of Latino job seekers, and Human Resources was prepared to interview and hire people at the fair for various open positions in the non-licensed workforce. Another evidence of systems change is the district's desire for more parents to participate on interview teams. Five of our parent staff helped interview dozens of candidates during the fair.
These are just a few examples of what nonprofit partnerships with school districts can accomplish toward the goal of education equity for all students.
For more information on this and other systems change projects, email [email protected].