Our first Formando Familias Fuertes parent conference (Forming Strong Families) on Saturday February 22nd was a success!
About 35 Spanish speaking parents and 36 children attended the parent conference at Waldo Middle School from 10:00am to 3:00 pm.
The morning began with introductions and welcoming statements from Joe Valencia, Assistant Principal of Waldo; Javier Quiroz, Director of the Parent Organizing Project of SKCE, and Christy Perry, Superintendent of the Salem Keizer School District.
Superintendent Perry shared an overview of the Student Investment Account process, and the final recommendations that the School Board would be voting on the following Tuesday (Feb. 25). (Testimony and voting begins on 1:19:44.)
Next, Carlos Ruiz, Assistant Principal of North Salem High School, introduced the Keynote Speaker, Teresa Tolento, Principal of Cesar Chavez Elementary School. Her speech struck a chord of the hearts of the families and brought tears to many listeners. She spoke of her immigrant Mexican parents and the struggle learning English while trying to hold on to her culture and language of her family, and the divide between the families and the schools. See the video here.
Participants had a variety of classes they could attend regarding the districts' Positive Behavioral Interventions System (PBIS) program, addressing mental health issues of children and youth, addressing mental health issues of adults, bullying and harassment policies, helping children structure their time at home, effective parenting for preteens and teens, and effective advocacy for school success.
The overwhelming majority of parents attended the classes addressing mental health issues of their children and youth, showing that the ideas behind the Student Success Act's funding are hitting the target. Programs for children of color, additional mental health supports, increased attention to school climate and culture, among others.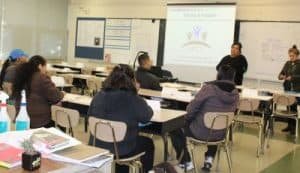 Lunch was donated by Tony's Tacos and Don Panchos. Twenty organizations and businesses provided popular resource tables during lunch and thanks to our local United Way's Give360 program, Amazon products were donated for both conference supplies and wonderful free raffle prizes!


The grand prize was donated by Castro Monroy Group: a beautiful bicycle!
Waldo Middle School is a Title I school, where 100% of the students receive free breakfast and lunch. Donations and sponsors are critical for our Nonprofit Organization to provide services and continue our work helping thousands of Latino/a/x children succeed in school.
Many thanks to the Salem Keizer School District for helping fund the project, and to Waldo Middle School for hosting the conference. A special thanks goes to Joe Valencia who worked with our conference coordinator and program staff for months in preparation and provided all we needed for classrooms, childcare, lunch, gym activities, and student volunteers. The dedication of our Latino/a/x staff, teachers and administrators in the Salem Keizer District is amazing to behold. School staff who dedicated their Saturday to Latino/a/x parents:
From Cesar Chavez Elementary School: Principal Teresa Tolento, Assistant Principal Teresa Alfaro, and Instructional Mentor Nubia Green.

From Auburn Elementary School: Assistant Principal Erica Manzo.

From Parrish Middle School: Alyssa Darnell, Math teacher.

From the school district: Jed Thomas, Psychologist and Victor Juarez, LSCSW, both from the Office of Behavioral Learning.
Formando Familias Fuertes, Forming Strong Families, is also a program of SKCE throughout the year. We look forward to making this parent conference bigger and better, and making it a collaborative tradition in the years to come.